If your device does not meet Minimum System Requirements for Examplify, you might see a screen similar to this one when you try to download an exam in Examplify.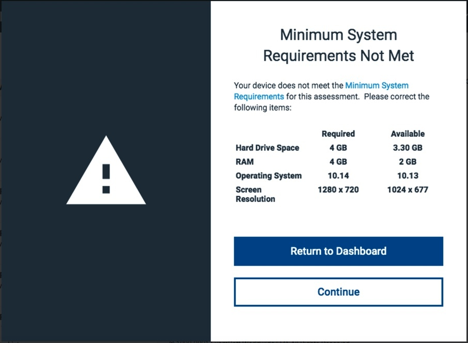 Depending on the type of issue, you might see an option to continue with the exam, or you might see only the Return to Dashboard option, which means that you cannot continue the exam on this device until it is updated.
Note: Your screen will display only the requirements that are not met. For example, if you do not have enough hard drive space, you will see information about the required Hard Drive Space and the available space on your device.

The information below will help you to resolve these issues and update your device as needed.
Issues
Operating System Issues
If you see a message about Operating System, visit one of the following links to update your operating system to the most recent version supported by Examplify.
Hard Drive Space Issues
If you see a message about Hard Drive Space, visit one of the following links to clean up space on your hard drive.
RAM (Memory) Issues
If you see a message about RAM, some models can have additional RAM installed. This is not an issue that can be resolved through software clean-up. Contact your laptop or desktop manufacturer for instructions on how to upgrade RAM on your device.
Screen Resolution Issues
If you see a message about Screen Resolution, visit one of the following links to properly set your display resolution. We recommend setting Scaling to 100% for best performance and to avoid wrapping issues.

Note: If you need to increase text size once in the application, instead of scaling, we recommend reviewing this article: Examplify: Exam-Taking Features and Options
If you use scaling at any rate other than 100%, you may experience issues once in Examplify with improper word wrapping on your device.
Minimum Examplify Version
If an exam-taker attempts to download an exam on a version of Examplify lower than the minimum version required for that exam, they will see the following message:
"This exam may not be downloaded to this version of Examplify. Please update to the Examplify version required by your institution in order to download this exam."

The exam-taker will need to update their Examplify application to proceed with downloading their exam.