Overview
Questions provided by Nurse Tim as part of your Build Your Own Question Bank will be found in folders, organized by topic. These folders are located in your Institution's portal and not the CJE Benchmark portal.
Granting Faculty Access
Procedure
Select the Admin menu (at the top right), and then select Users.
Locate the user you would like to grant permission and select the pencil icon to the right of the user name.
In the Main Access Rights section, select the rights that the user should have for Questions.

"Restricted" will require that you select each folder that this user will have access to. When this option is selected a new section will appear at the bottom of the screen. Here you can select the rights to each question folder.

Read-Only - users can see and use the questions on assessments but may not create new or edit existing questions in the selected folder. This is the recommended permission selection for CJE question folders

"Full" allows the user access to the full rights to all question folders
For more information on each user-right level, head over to our Legacy Portal: Admin User Permissions guide.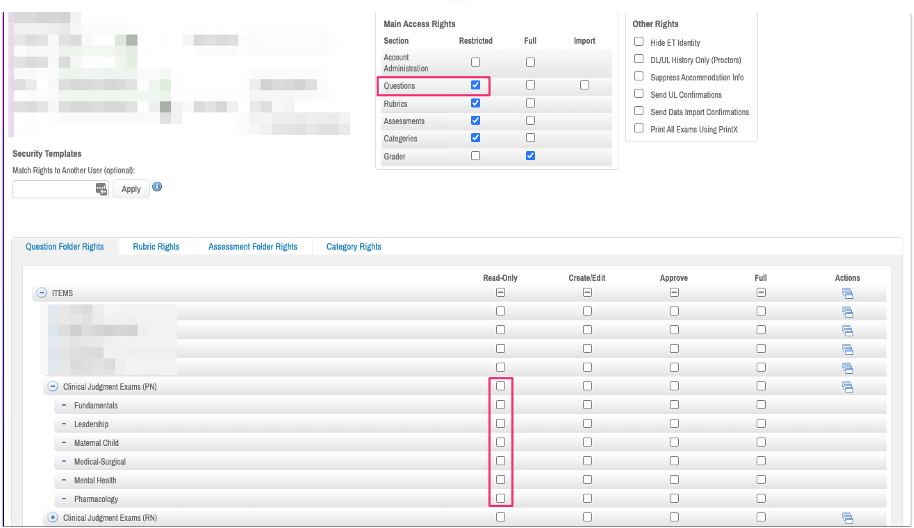 Select Save.

Adding Questions to Assessments
To add questions from your CJE question folder, begin building an assessment. For more information about starting and building an assessment, see our Create a Question Bank Assessment guide.
Procedure:
Select Add Questions to Assessment.



On the left, select the Questions by Folder and select the appropriate CJE question folder.
You can also use the Advanced Search, found at the top, to search by category, question ID, question title, question text, or answer text within a specified CJE question folder.
To add a question to this assessment: In the main area of this pop-up window, select the checkbox for each question that you want to include, and then scroll down and select Add Selected to Assessment. Continue to search, browse, and add questions until you've selected all of them that you want for this assessment.
To close the pop-up window: Select the X button in the top right corner.