Issue:
If you are using a device with Intel Smart Sound Technology (Microphone Array), the following message might appear when you launch an ExamID assessment in Examplify.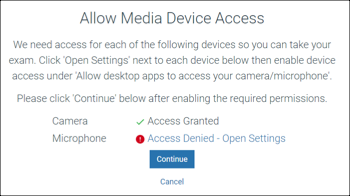 Cause:
Some Windows devices utilize a technology called "Intel Smart Sound Technology Microphone Array," which is not supported by ExamID and ExamMonitor in some manufacturers' configurations. This technology combination is most commonly found in Lenovo devices.
Solution:
On certain devices, you might be able to resolve the issue by adjusting the device settings. If not, you must use an external microphone. This can be a standalone microphone or a microphone that is built into an external camera. However, headphones with built-in microphones are not supported.
If you log into an exam and see the above warning message, select the Open Settings link.
In the Settings window, turn on access to the microphone and allow Examplify to access the microphone.

Select X in the top right corner of the Settings window to close it.

If the issue is corrected by the above steps, you'll be able to continue with the ExamID process. Follow the on-screen instructions to continue.
If you still see the same warning message, close Examplify and then continue to the next step of this procedure.

Connect an external microphone (or camera with built-in microphone) to your device.
Relaunch Examplify, select the exam, and enter the exam password.
Accept the Consent to Collect and select Continue on the Allow Media Device Access screen.
When the Device Preferences screen appears, select the new microphone from the drop-down list.

After you select the microphone, the Integrated Camera feed will show your camera view, the audio indicator will show that the microphone is receiving input, and the Continue button will be enabled.

Select Continue, and follow the on-screen instructions to complete the ExamID process and begin the assessment.