This article helps you to know what to expect when using Examplify for iPad and taking an assessment with ExamID and/or ExamMonitor. Your assessment might include one or both of them.
ExamID is the software that will authenticate your identity by using your camera at the start of the exam.
ExamMonitor is the software that will proctor your assessments by using your screen recorder, camera, and microphone throughout the exam.
Note: If you are taking an exam that does not use ExamID and/or ExamMonitor, see: Examplify for iPad: Prepare to Take an Exam
Before You Begin Your Exam
Ensure that your device meets the Minimum System Requirements, including the special requirements for ExamID and ExamMonitor. See: Minimum System Requirements
Install the latest version of Examplify for iPad and log in. See: Examplify for iPad: Download and Install Examplify

Important: ExamID and ExamMonitor are fully supported on Examplify for iPad version 4.3.3 and later. To check the version that is installed on your device, open Examplify on your iPad and go to the Dashboard. The version appears in the lower right corner. If you are on a lower version than 4.3.3, update your software by going to the App Store. See: Examplify for iPad: Download and Install Examplify

Get familiar with Examplify. See: Best Practices for Exam-Takers
Learn what to do and what not to do during the exam. See: A.I. Proctoring / Invigilation Exam Day Guide

The above guide includes recommendations about lighting, background noise, devices, hats, headphones, and how to prevent being flagged for unusual behavior.

Please note that headphones, including earbuds or microphones attached to headphones are never permitted during an assessment and can create potential audio flags during the proctoring review or your exam.

Make sure that you know the exam password and the date when the exam will be available for downloading. (Check with your instructor or exam manager for these details.)
Select a well lighted, quiet, and distraction-free space in which to take your exam.
If you are using an external camera or microphone, connect it to the device that you'll use to take the exam.
To ensure the best results, temporarily disable your anti-virus software before starting the exam. See: Disable Anti-Virus Software
Read all sections of this article so that you know what to expect during your exam.
Video Guide
This short video guide shows you how to put your device into airplane mode, complete the consent form, and upload your exam.
Internet Connection
An internet connection is required to start an assessment with ExamID. Make sure that your device is connected to the internet before you continue with these procedures. If you attempt to start an ExamID exam but do not have an internet connection, an error message will appear.

At the appropriate point, you will be prompted to go to Settings and put your iPad into Airplane Mode for the exam. Follow the on-screen prompts.
Device Checks
Examplify performs certain checks when you start Examplify and when you attempt to download an exam.

Note: To learn how to download an exam, see: Examplify: Download or Remove Exams

If you see messages about Minimum System Requirements, review the on-screen information. Depending on the issues, you might be able to Continue with the exam, or you might see only the Return to Dashboard option.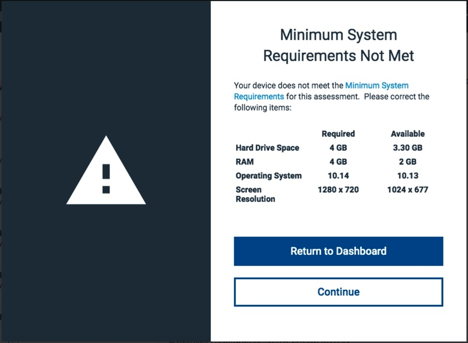 Even if the Continue button appears, we recommend that you update your device according to the on-screen information. If you see only the Return to Dashboard option, you cannot use this device without updating it to meet the requirements.
Exam Details: ExamID/ExamMonitor Tiles
After the exam downloads, you'll see the Exam Settings and Exam Details, such as the time limit and available features. You'll see the ExamID and/or ExamMonitor tile(s) in this area.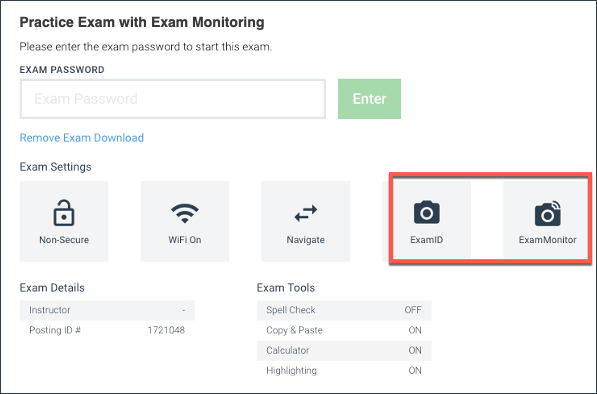 If you do not see the expected tile(s), verify that you've selected the right exam. If needed, check with your instructor to confirm that this exam will use ExamID and/or ExamMonitor.
Exam Details: Exam Sections
For longer exams, the exam-maker can create exam sections. The section titles will be listed in the Exam Details.
Example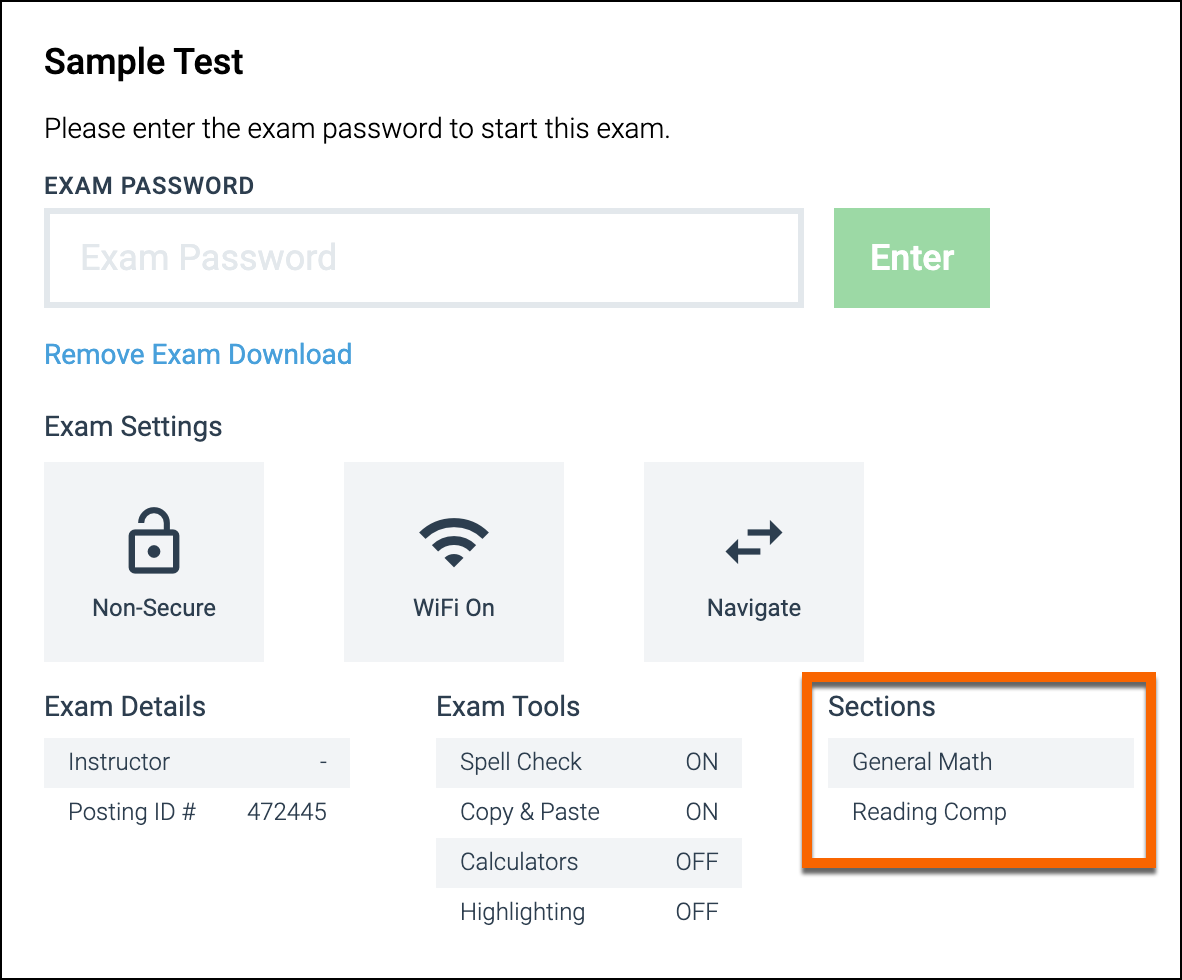 Note: For more information about taking an exam with exam sections, see: Tips for Exam Sections
Exam Login
At the scheduled time for this exam, you can enter your Exam Password (as provided by your instructor). Follow the on-screen prompts to continue.
Consent to Data Collection
After you enter the exam password, you'll see the Welcome and Get Started screen, and then the Notice and Consent Request to Collect Biometric and Other Personal Data. ExamID will use your camera the beginning of your assessment, and ExamMonitor will use it throughout your assessment. You must consent to the collection of biometric and other personal data to continue. Read the notice, and then scroll down to select the checkbox that states I consent.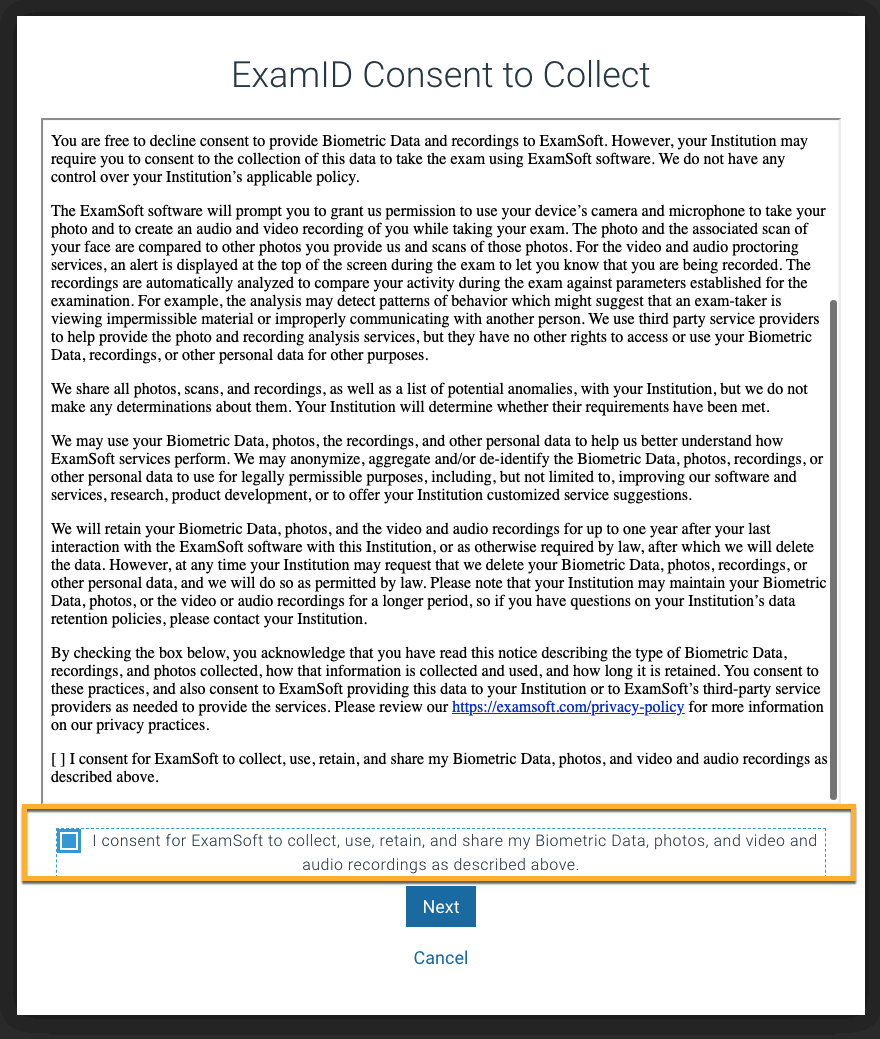 Camera Permissions
After you complete the consent form, you will be asked to grant camera permissions on your device.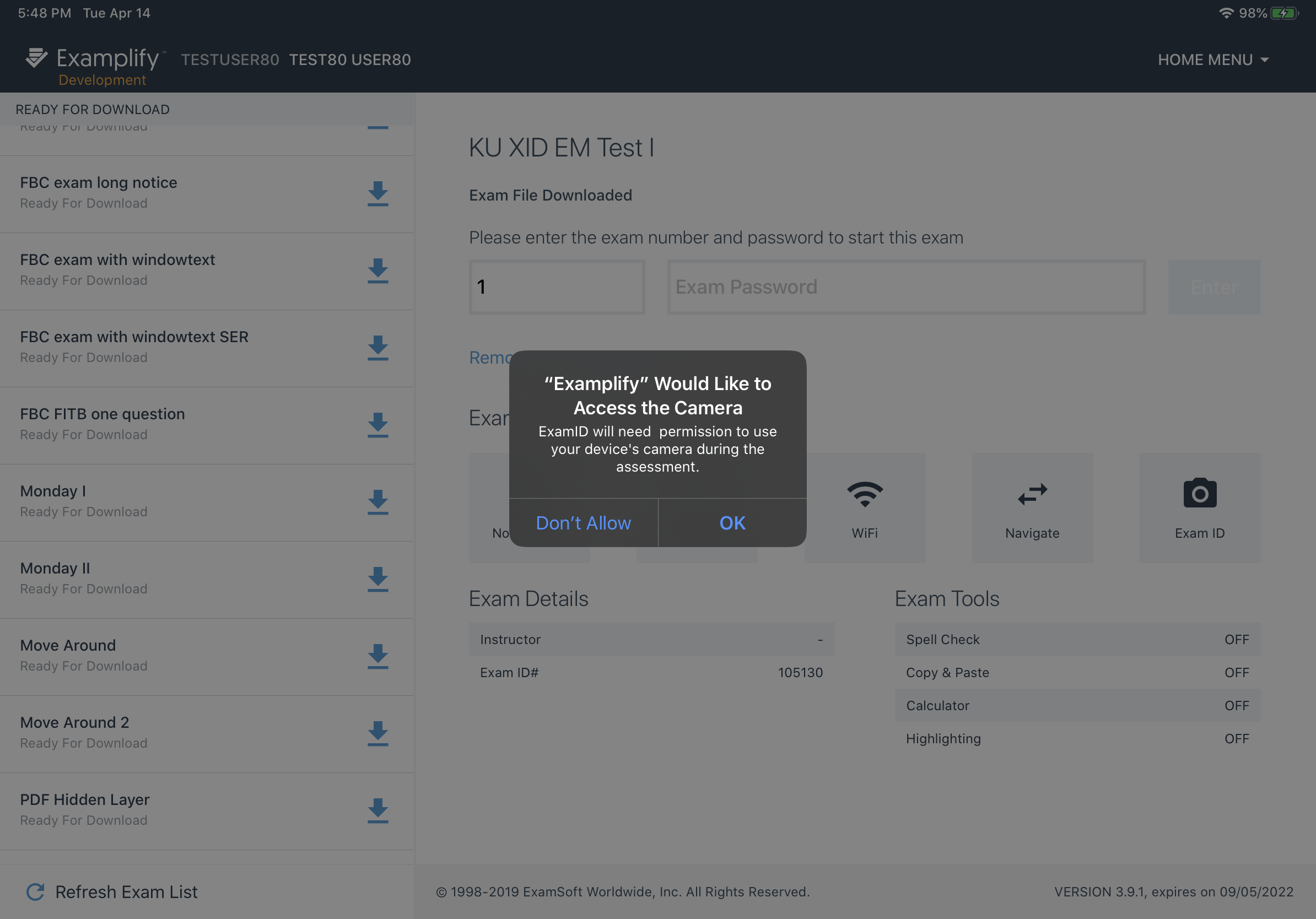 Camera and Microphone Selection
You'll see a screen that asks you to select your camera and microphone, verify your camera placement, and test your microphone.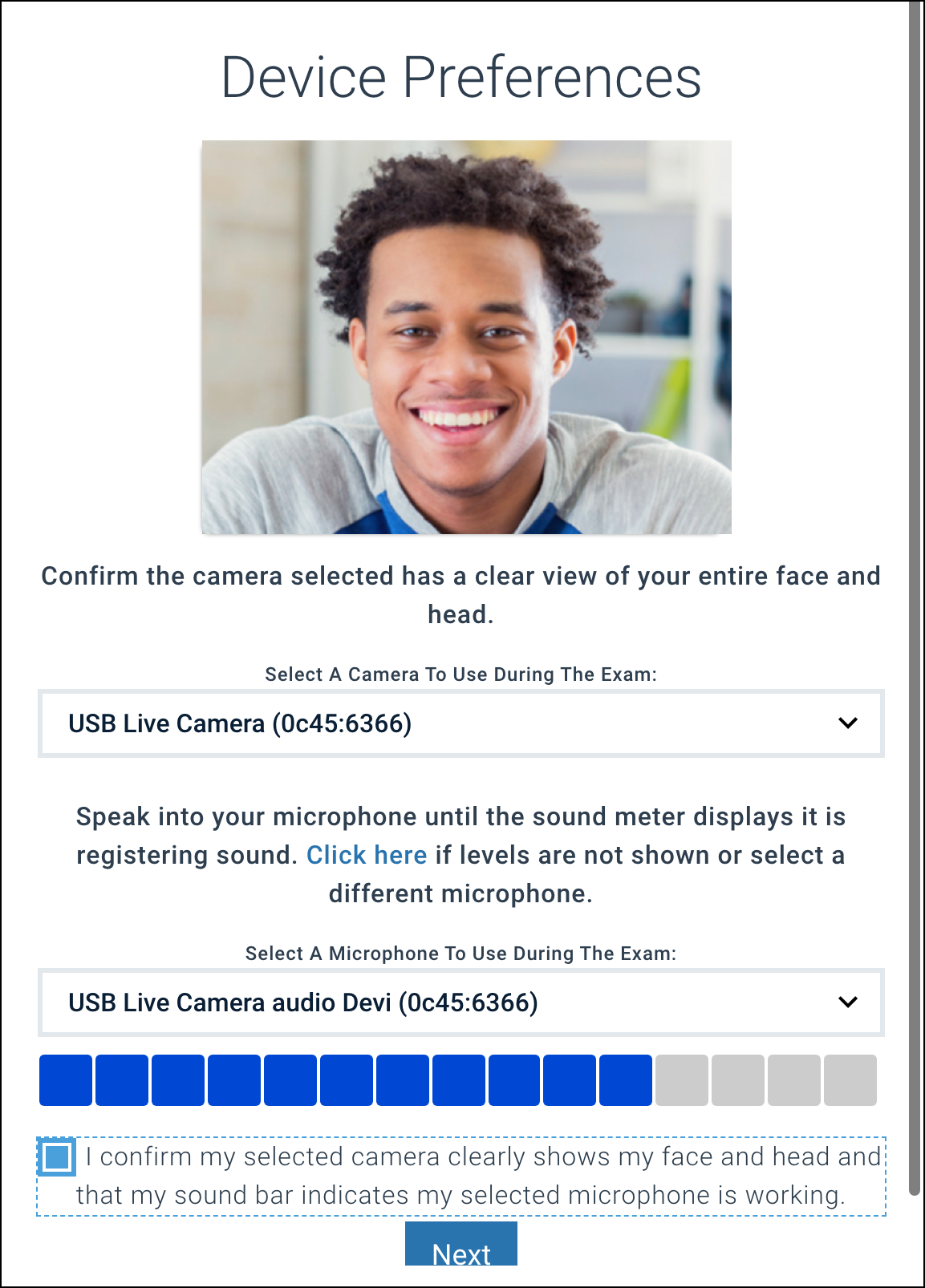 Tips:
After speaking into your microphone, you should see sound bars as illustrated below. If these bars appear while you are speaking, then the microphone is working. (Note: This example is from Examplify 2.8.2. Your screen might look somewhat different.)

You must select the checkbox to confirm that you have verified your device preferences.
Photo Capture
You'll need to take a photo, which ExamID will process to validate your identity.
Make sure that your webcam is uncovered and is aligned for a straight-ahead view of you as you use your device.
Position yourself so that you are facing the camera, and remain still.
When you're ready, select the camera button, and Examplify will take your photo.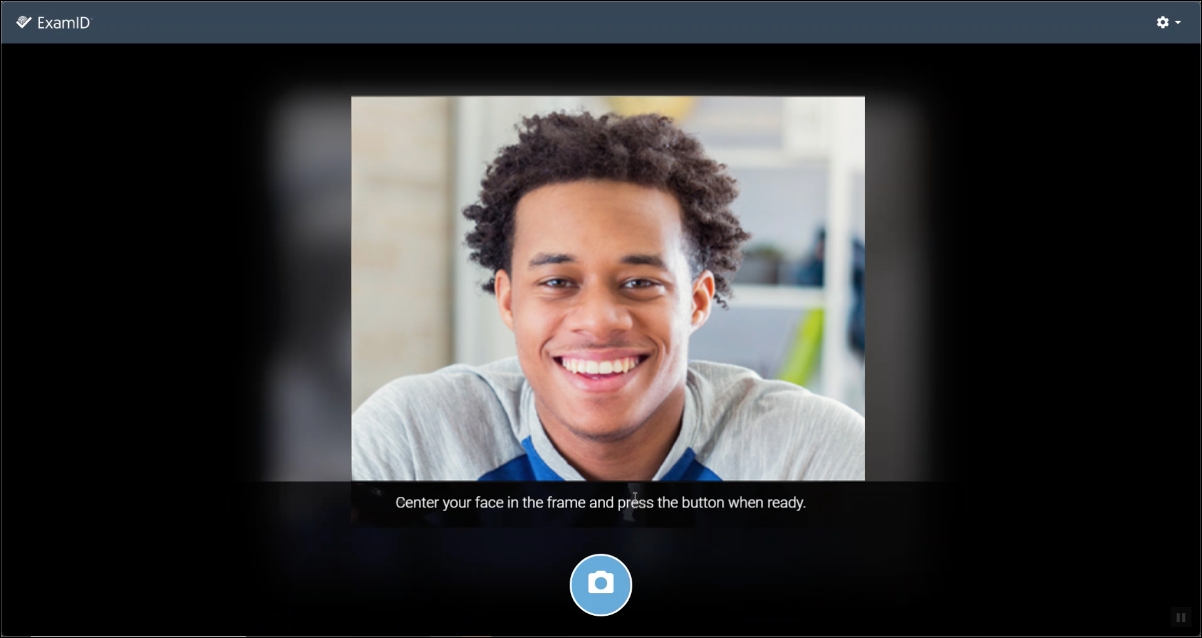 You'll have the opportunity to retake the photo or to Save and Continue.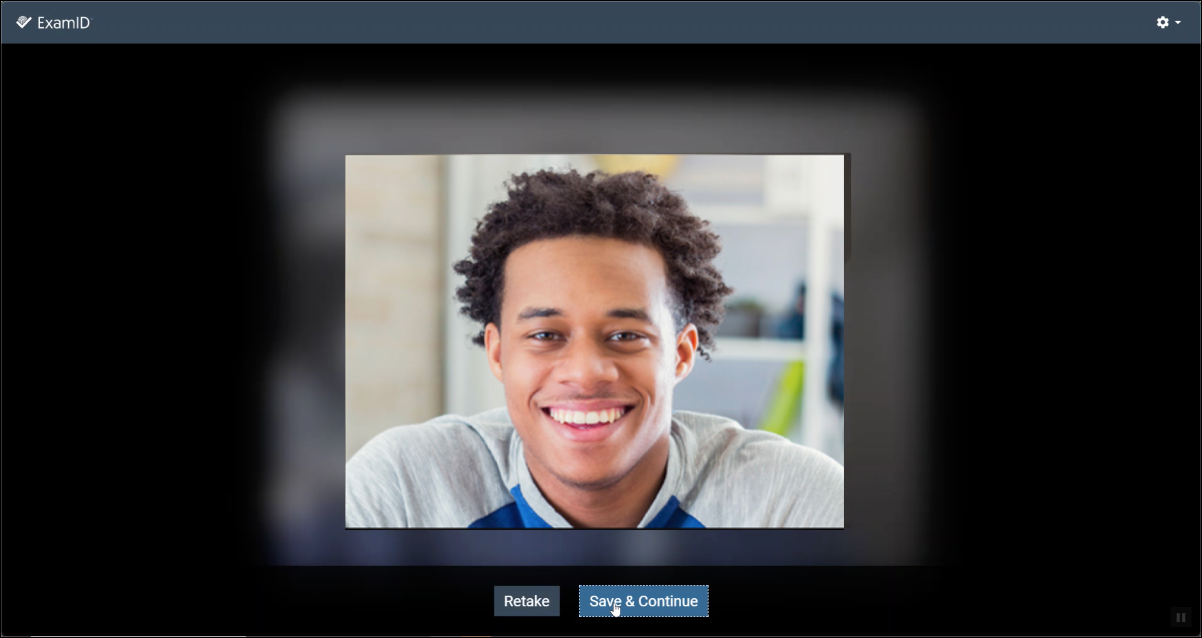 Airplane Mode and App Self-Lock
When you start an ExamMonitor-enabled exam on your iPad, you'll see prompts about special settings.
Airplane Mode: You'll be prompted to put your device into Airplane Mode, which disables your Wi-Fi connection as required for the secure exam.

You'll need to go to Settings, and turn on Airplane Mode. After you've done this, you can return to Examplify and go to the next step.

Note: If you are using a Bluetooth keyboard with your iPad, you can simply disable Wi-Fi rather than turning on Airplane Mode. This way, your iPad will be able to access your keyboard during the exam.

Confirm App Self-Lock: You'll be prompted to confirm that your device is in Single App Mode, as required for the secure exam. You'll need to select Yes to continue.
ExamMonitor Monitoring Activity
Depending on your institution's settings, you might notice these indicators of monitoring activity:
Your camera light is on.
The video feed might be visible in a small "thumbnail view" at the bottom of the screen, or it might be available via a Monitoring tab at the top of the screen.

Bottom-of-Screen Video Feed: If your institution uses this option, the video feed is always visible in a thumbnail view in the footer of the screen.
Top-of-Screen Video Feed: The Monitoring tab appears at the top of the screen. To see the video feed, select the tab. To close it, select the tab again.

Check your position and the camera angle, and make changes, if needed. Make sure that your face is fully visible in the video feed. A colored dot indicates your status:

Green dot: Your face is fully visible within the frame.

Red dot: Your face is out of the frame, or the camera is unable to capture your full face (due to a mask, head scarf, etc.). Make adjustments and ensure that your face is fully visible throughout the exam.
Exam-Taking Features
When the first question appears on the screen, proceed through the exam, using the various features of the user interface as needed.
After Your Exam
To submit your exam:
If you reach the final question and the Next button changes to the Submit button: Select the Submit button.
If you decide to submit the exam before you complete the final question: Near the top right corner of the screen, select Exam Controls, and then select Submit Exam.
You'll be prompted to turn off Airplane Mode and reconnect to Wi-Fi. After following the on-screen instructions, you'll be able to select Next to upload your assessment.
After you submit your exam:
Follow the on-screen instructions, and keep Examplify open until your answer file and the monitoring files are successfully uploaded. If you wish, you can minimize Examplify.
Depending on the exam length and the network speed, the upload process could take some time. For example, uploading a 90-minute exam with a 2 MB upload connection takes about 10 minutes. With a shorter exam or a faster upload speed, the upload process might take only 2-3 minutes.
Do not close or quit Examplify.
Do not disconnect from your network.
Check the dashboard periodically to determine the file status. On the left side of the dashboard, under My Exams, Examplify will indicate that the exam is uploading or that the upload is completed. If supported by your institution, you also will receive emails to confirm the answer file upload and the video file upload.
When the exam appears in the Completed section with a green checkmark, then you can close Examplify and shut off your computer or disconnect from the network/Internet.