A common feature of many assessments is a matching question, in which the exam-takers are presented with two lists of related items and must decide how to pair them up. You can create this type of interaction in ExamSoft by adapting the Fill in the Blank question type and using a table to create the typical two-column structure.

Example
This image shows a matching question in Examplify. The numbers indicate the blank spaces where the exam-taker will enter the letters to match each country to its capital. The "Procedure" section of this article will guide you through the process of creating this question.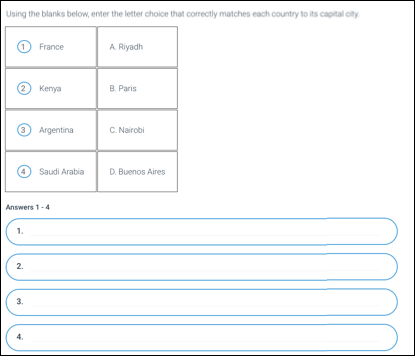 Procedure
The following procedure explains how to duplicate the example. You can then adapt these instructions to your needs.
Select the Questions menu.
Select the Create FITB/Matching button.
On the left side of the screen, enter the title, folder, and other options as needed. For more information, see: Legacy Portal: Basic Steps to Create Questions
In the Question box, enter the instructional text. In our example, the text is: Using the blanks below, enter the letter choice that correctly matches each country to its capital city.
Press the Enter key to create a new line of text below the instructions.
Select the table button, and then enter the number of Rows and Columns. For our example, we need 4 rows and 2 columns.
Enter words, phrases, or images in each cell of the table. For our example, a country is entered in each cell of the first column, and a city is entered in each cell of the second column. Each city is assigned a letter, A-D. At this point, no numbers are entered in the first column.

Create the first blank space: Click in the first cell of the first column, just to the left of your text. Below the question area, select the Add New Blank button. The number1appears in the cell, and a numbered blank space appears in the answer area.

Repeat the above step in the next row of the first column, to enter the number2, and then continue until all of the items in the first column have a numbered space.


In the Answers area, enter the correct letter for each numbered space.

Note: The scoring system disregards capitalization, so you can enter either a or A for item A, and so on.

If applicable, select the Partial Credit checkbox (in the Options section on the left side of the screen). When this option is selected, the exam-takers will receive credit for any correct matches that they make. If it is not selected, they must correctly match all of the items to receive credit for this question.
When you are finished making changes to this question, select Save (near the top right corner of the screen).