This feature is currently in limited release. Please reach out to your Customer Success Manager with any questions.
Bowtie Question Type
Bowtie items address all six steps of the Clinical Judgment Measurement Model at one time. The exam-taker reads a scenario, recognizes cues, analyzes cues, and generates solutions. Then, the exam-taker completes the bowtie layout to determine the most likely condition that the client in the scenario is experiencing (Generate Hypotheses), the appropriate actions to take (Take Action), and the parameters to monitor (Evaluate Outcomes).
The solution looks like a bowtie with two "Actions to Take" on the left, two "Parameters to Monitor" on the right, and a single "Condition Mostly-Likely Experiencing" response in the middle.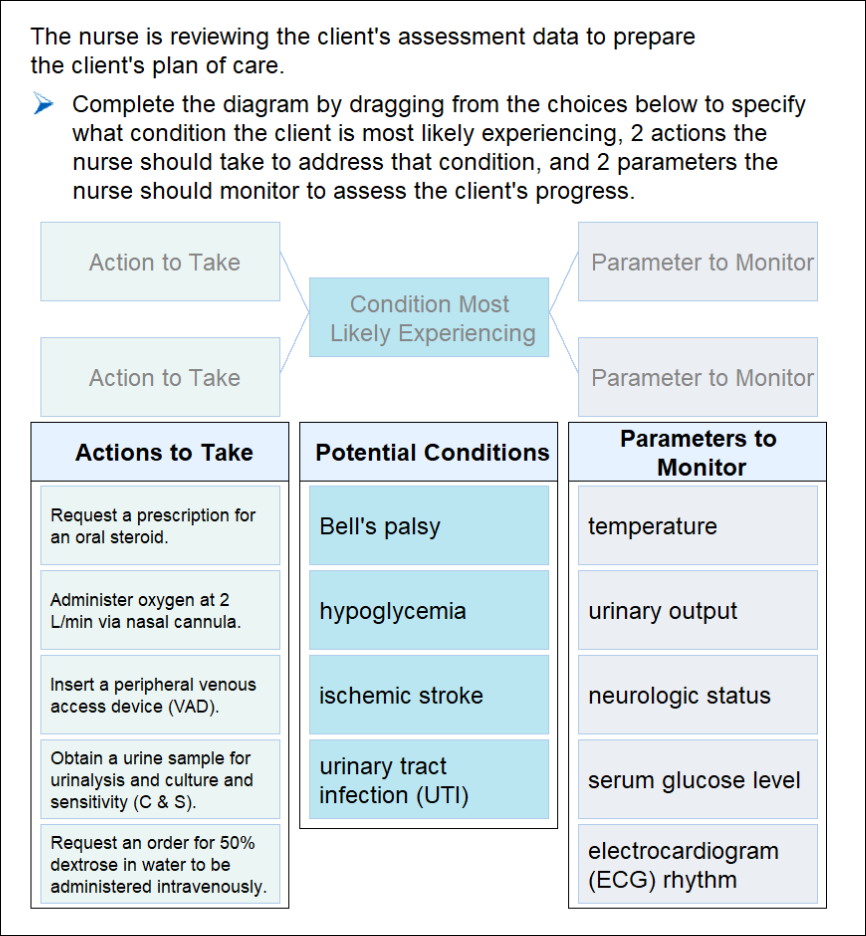 Note: The above information and example are from Next Generation NCLEX News, Spring 2021.
Portal Procedures
Legacy Portal: Create Bowtie Question Type
Instructions
Note: For more information, see: Legacy Portal: Basic Steps to Create and Edit Questions
Create a question, and select Create Bowtie.

Optional: Add Question Title
You might find it useful to enter a label that describes this question. If you leave this field blank, ExamSoft will create a title by using the first 60 characters of the Question stem.
Optional: Add a Case Study Artifact

Enter the Question with the text you want to appear above the bowtie layout, and include any instructional text to help the exam-takers understand how to complete the bowtie interaction.
For example: "Complete the diagram using the choices below to specify what condition the client is most-likely experiencing. According to these findings, choose 2 actions to take, the potential condition, and 2 parameters to monitor."

Label each answer column.
By default, the Answer Choice columns are labeled: Actions to Take, Potential Condition, Parameters to Monitor. These labels can be changed, and the limit is 50 characters per label. The preview of the bowtie is dynamic and will change as you select the correct answers.


You can also edit the Answer Choice(s) by selecting the pencil icon next to each column.


Create the answer choices for each column.
By default, there are two answers listed per column. You can create additional answer choices by selecting the Add New Action to Take, Add New Potential Condition, and Add New Parameter to Monitor buttons at the bottom of each column.
Each Answer Choice column can have up to 26 answer options. The minimum number of options in each category is three, two, three: one choice more than the required number of responses.
The Answer Choice boxes can contain up to 150 characters.