You can map your teaching staff to the courses, or even individual learning outcomes, in your curriculum document if you wish.
To do this you will need to create a separate staff document containing a list of faculty names. An example of a staff document is shown below.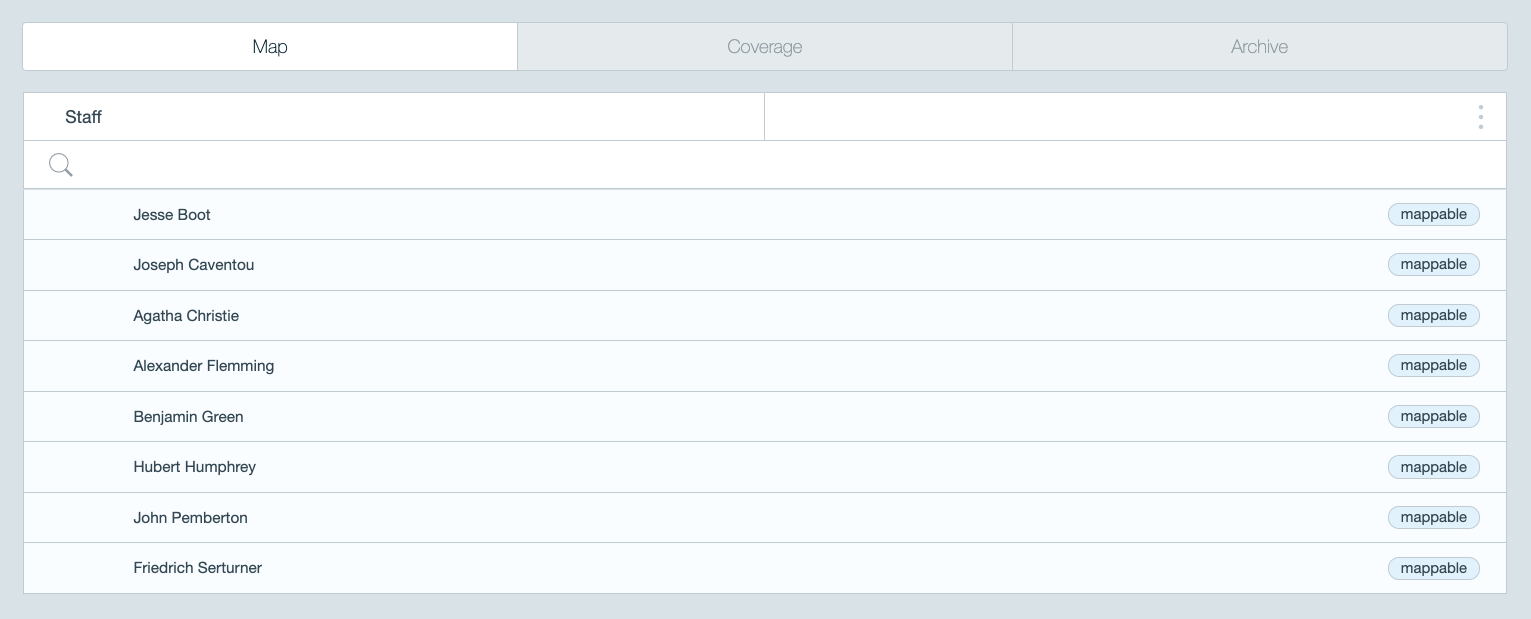 To create a staff document manually:
Login to the Liftupp Portal on a laptop or PC (ExamSoft recommends using Google Chrome as your web browser).
Click the Map button in the navigation bar at the top of the screen.

Click the Create Document option under the Map tab.
Note: If another document is already open in Map, the Create Document option is located under the Main Menu (three dots in the top right).

Give the document a title

If you are creating a list of staff for a specific program, then include the program name in the title, e.g., Doctor of Pharmacy (PharmD) Staff.


Build your document hierarchy

Use the Add New Top Level Item button to add each staff member as a top level item (level 1. You can leave the Show Listing option toggled off.

This will create a simple document containing a list of staff names.

Toggle the Mappable option on for all the staff names.
Use the pencil and trash buttons to edit and delete items as required.

The Map tool auto-saves every time a change is made.
When you have finished creating your staff document or wish to pause, click Done (top right) to exit edit mode.
A similar procedure can be used to create other documents containing lists that you may wish to map to the courses or learning outcomes in your curriculum document, such as:
Assessment names (e.g., Exam 1, Exam 2, Final Exam)
Instructional methods (e.g., lecture, seminar, clinical)
Student contact time / clock hours (e.g., 0.5, 1.0, 1.5, 2.0 hours)
Simply replace staff names in the workflow above with the list names you require. Some examples of these documents are shown below.
Assessments Document


Instructional Methods Document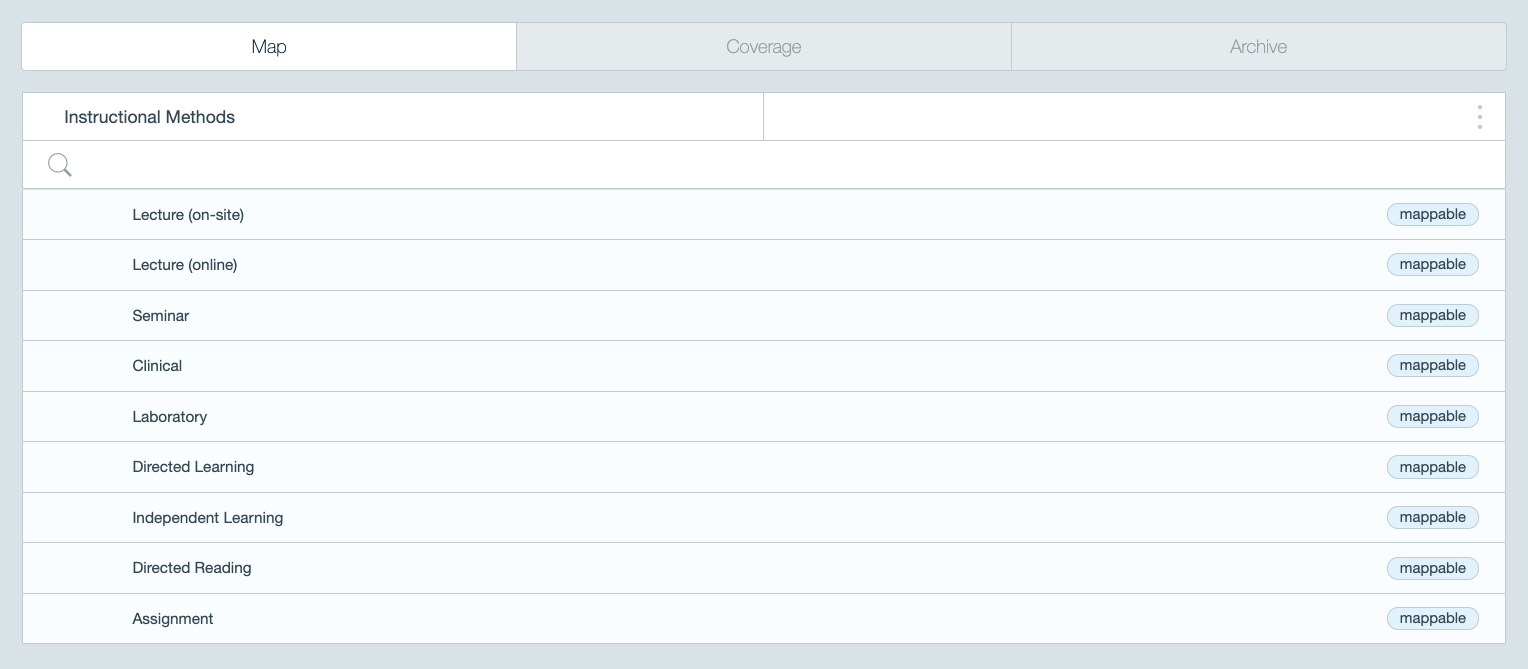 Student Contact Time Document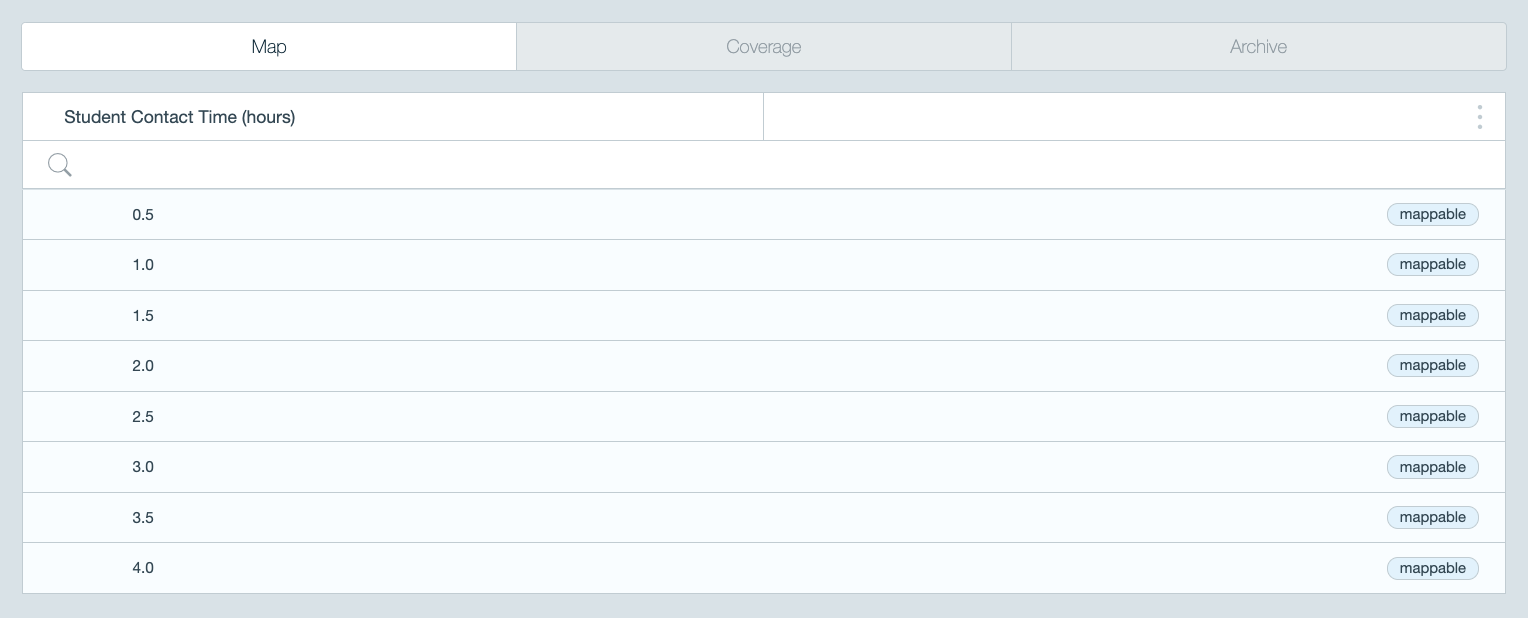 Additional information can be found in our Map User Guide, which you can download
here
or from the Help menu in your Liftupp Portal.