This article provides tips to help you to answer Drag-and-Drop questions on your exams.
Tips
Below the question text are two boxes.

The box on the left contains the answer choices.
The box on the right is where you'll place your response(s).

On a PC or Mac, use your mouse to drag your response(s) from one box to another. On an iPad, simply tap on an item to move it.

Notes:

To answer the question, you will move your responses from the answer choices box on the left into the response box on the right.

The order of your answers is not assessed in Drag-and-Drop questions.

The options within the answer choice(s) and response(s) boxes can only be moved between boxes; they cannot be arranged into a specific order within the boxes.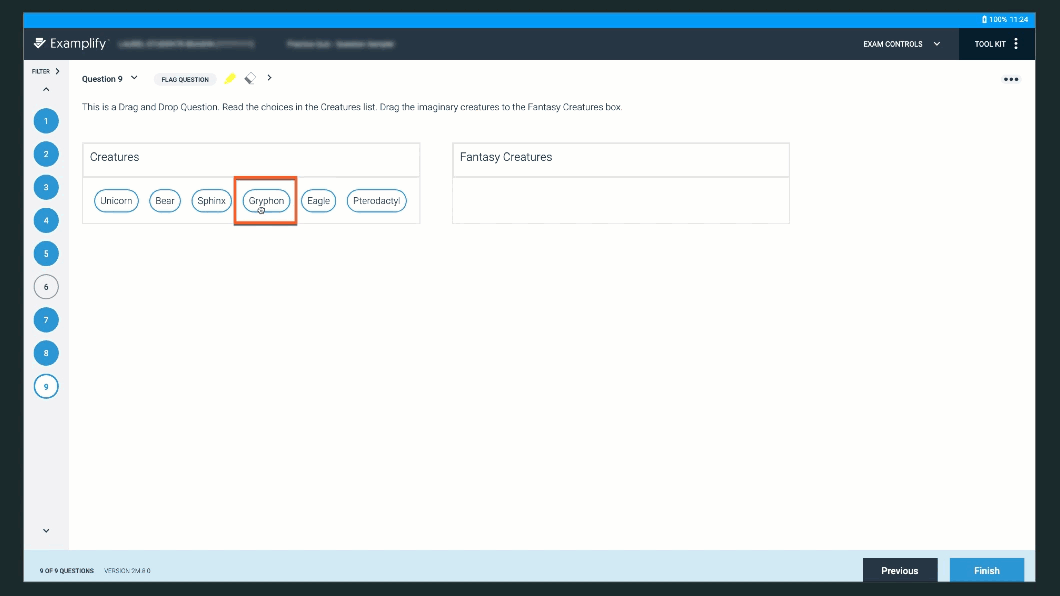 Guessing is discouraged because the exam-maker can set up the exam to apply penalties for incorrect answer choices.
Keyboard Shortcuts: As an alternative to dragging and dropping, you can use keyboard shortcuts.

To move the cursor to an answer choice: Use the arrow key combinations below. This movement will include both boxes.

| | |
| --- | --- |
| Windows | Press Ctrl + Shift plus the left arrow key or the right arrow key. |
| Mac | Press Shift + ⌘ plus the left arrow key or the right arrow key. |

When an answer choice is selected, it will have a thick border, as shown below.



To move the selected answer choice to the other box: When an answer choice is selected (with a thick border), use the Spacebar key combination below to move it to the other box.

| | |
| --- | --- |
| Windows | Press Ctrl + Shift + Spacebar. |
| Mac | Press Shift + ⌘ + Spacebar. |