This feature is currently in limited release. Please reach out to your Customer Success Manager with any questions.
Procedures
Instructions
Create a question, and select the Ordering question type.
Note: For more information, see: Enterprise Portal: Basic Steps to Create and Edit Questions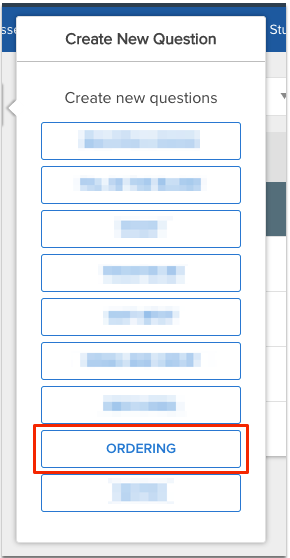 Enter the question text, including instructional text to help the exam-takers understand what to do in the Ordering interaction.

Explain what they are seeing in the unordered list, and what they need to re-order to receive full credit. For example: "Review the procedural steps for taking a person's blood pressure reading. Drag and rearrange these steps in the correct chronological order."
Scoring an Ordering question
If you use the default, all-or-nothing scoring, full credit will be given if the exam taker puts all Ordering items in their correct order.
If you select the Partial Credit option, include wording to make the exam-takers aware that they will receive credit for any items that are in their `correct position, and will receive no credit for the items NOT in their correct position. See Ordering Scoring Explained
Be sure to call out in the question stem how you intend to grade these items so your exam takers are aware.

For example: "Answer Carefully: Any items arranged in their correct position will receive credit. Items not in the correct position will receive no credit."
Example: Instructional Text in the Question Stem

Enter a section title appropriate for the question.
In the following example, we entered 'Procedural Steps'. Next, enter the steps for taking a patient's blood pressure. Note that each item you enter on the left automatically appears on the right and is denoted under the "Correct Ordering" grouping on the right.
The Unordered Items on the left can be dragged and rearranged into any order, and is how they will appear on the assessment for your exam takers. You can also click "Randomize" to quickly randomize the items on the left, which alters how they will appear on the assessment.
The Correct Ordering is defined on the right and can also be dragged and arranged as you see fit.
Be sure to double-check that you are satisfied with both the appearance of the Unordered Items on the left, and with the Correct Ordering defined on the right.

(Recommended) Assign one or more categories. For more information, see: Enterprise Portal: Assign Categories to Questions
(Optional) Select other options, if needed.
Tips:

If the question involves an electronic health or medical record, you can upload an attachment. For more information about attachments, see: Attachment Types and Requirements
If there are multiple questions related to the same case, you can group the questions together after you add them to an assessment.

Save the question.